Ventures ATL is bridging the unemployment gap within the neurodiverse community
Ventures ATL and Dooney & Bourke have partnered to present a stunning collection of handbags that champion Autism Awareness and Acceptance. These handbags serve as both a symbol of your dedication to the cause and a direct source of employment for our adults with autism. Our team members meticulously handle every step from picking and packing to labeling and shipping, ensuring your order is in caring hands. To add a personal touch, each order includes a heartfelt note from one of our dedicated employees.
Dooney & Bourke's Pebble Grain collection, renowned for its rich texture and durability, effortlessly blends modern style with timeless classics that suit any season.
With each handbag, a conversation is sparked, and awareness and acceptance around autism is fostered.
Join us in this meaningful journey of making a difference.
OUR MISSION
Ventures ATL operates with a clear purpose — to tackle a pressing issue. Remarkably, around 80% of these talented individuals remain unemployed or underemployed, despite possessing skills that are in high demand. While challenges such as limited 'soft skills,' transportation barriers, and a scarcity of community support might hinder their job search, they often possess a remarkable aptitude for performing vital job functions. Our mission is to bridge the gap between the skills they possess and the market's needs. Ventures ATL's role is to connect capable employees to the deeply satisfying realm of meaningful employment while simultaneously offering valuable resources to our business partners. By doing so, we provide adults with autism access to career opportunities that might otherwise remain out of reach.
The Ventures ATL model stands apart from other organizations. Unlike a placement-oriented approach, Ventures ATL operates as a third-party service provider. We operate a diverse portfolio of businesses that align with the strengths and interests of these individuals, fostering a fundamentally distinct approach that complements the marketplace needs.
Our operational principles at Ventures ATL revolve around two crucial pillars of sustainability. Firstly, we operate businesses that anticipate substantial and enduring commercial demand for our products and services. Secondly, the jobs we create are tailored to match the abilities and passions of our employees. This ensures their enduring success and job satisfaction.
While our engagement with Ventures ATL carries a corporate social responsibility facet, offering employment to an underutilized yet extremely talented domestic resource, we recognize the paramount importance of supporting our customers' core business objectives and unique needs. We're steadfast in delivering high-quality services at a competitive price point, addressing specific client needs effectively.
Structured as a nonprofit, we are firmly grounded in the disciplines and practices that drive successful for-profit enterprises. Our focus remains on identifying opportunities where our employees' skills translate into tangible business value for our customers, addressing genuine commercial demand.
At Ventures ATL, we foster an environment dedicated to the success of our neurodiverse employees. While our commitment to client satisfaction remains unwavering, we go beyond by cultivating a workplace that embraces proper etiquette and hones in on soft skills that might pose challenges for individuals with autism or other neurodiverse differences. We've crafted a space where diligence and enjoyment coexist harmoniously, placing a premium on teamwork.
Our approach revolves around respect and empowerment. Each individual is valued for their unique strengths and talents, with a steadfast commitment to delivering exceptional results to our business clients. We emphasize a culture where no one is diminished, concentrating instead on maximizing the potential within each person to ensure the delivery of top-quality outcomes.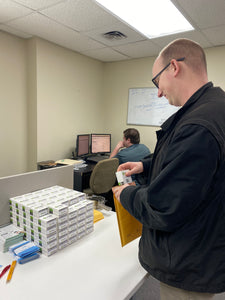 SERVICE OFFERINGS
Data Entry & Data Management – Our data management services enable the efficient handling and optimization of data-dependent tasks and processes. Businesses encounter challenges in dealing with "the final-mile" of consistency, accuracy, completeness, and integrity of data. To address this, enterprises often partner with third-party providers. Our unique proposition lies in utilizing an untapped pool of domestic talent, ensuring premium services at a competitive value. Notably, our data management services align seamlessly with the strengths of adults on the autism spectrum, given their exceptional focus and literal approach to information processing, rendering them exceptionally adept in this capacity.

Product Fulfillment – We streamline the fulfillment process by executing the selection, packaging, labeling, and shipping stages for delivering products to clients, employees, and other invested stakeholders.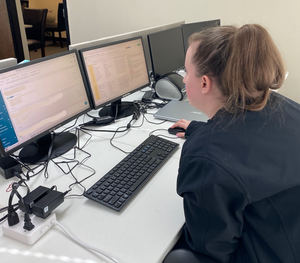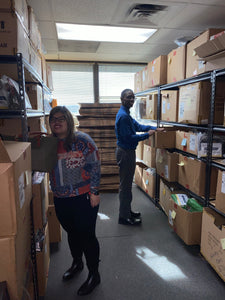 Your Purchase Makes a Difference
Each order is picked, packed, labeled, and shipped by Ventures ATL employees. Meaning your purchase directly employs autistic adults.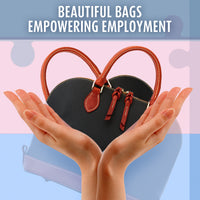 Pebble Grain Leather
Dooney & Bourke's Pebble Grain collection is renowned for its rich texture and exceptional durability. Distinct design brings modern style to beloved classics that are perfect for any season.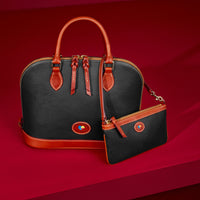 Conversation Starters
The beauty of these bags blossoms as they create opportunities for discussion and awareness around autism.
Lifelong Value
Our bags are built to last. Use them, travel with them, enjoy them, live with them.